Hoshigaki is a delicious Da Lat specialty.
Hoshigaki Da Lat (wind-hung persimmon), Vietnam, also known as dried persimmon or air-dried persimmon, has a dry appearance, but inside is full of sweet nectar from naturally ripe persimmons. They are very delicious, with novel flavors that are loved by many people. The way to make persimmons hang by the wind is very laborious and meticulous, but when everyone sees the finished product, they have to sob and praise.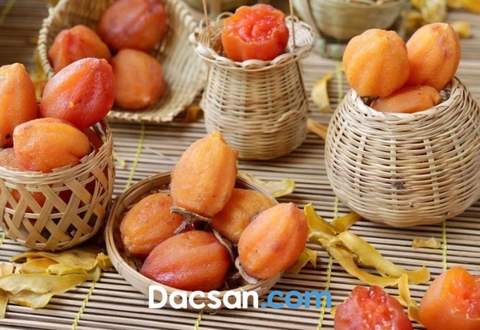 Features of Dalat Hoshigaki
On the tourist map of Vietnam, the name Da Lat is not only famous as a leading natural tourist and resort destination but also makes visitors nostalgic with its specialty of persimmons drying in the wind.
Sun-dried persimmon Da Lat is made from fresh persimmons grown in Da Lat, Vietnam. When they are ripe enough, people will pick them down to make hoshigaki. Under the natural wind-drying process, they have a dry, brown outer shell but are filled with sweet nectar. This gift can be eaten as a snack and is delicious and healthy at the same time. Or make a high-end luxury gift for precious relationships.
The taste of Dalat wind-dried persimmon is sweet and bold, spreading throughout the taste buds. Anyone who eats it once is addicted to it. Perhaps people love wind-dried persimmons because, after 30 days of hanging high and drying in a ventilated place, they are imbued with the sweet scent of heaven and earth, not refined sugar.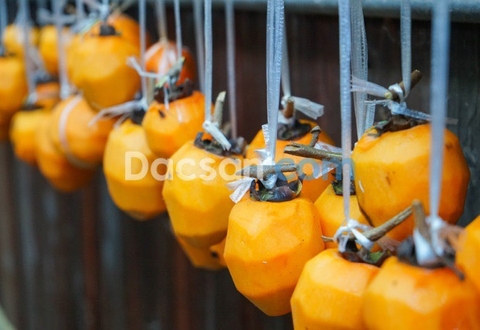 Dalat Hoshigaki Recipe
Talking about how to make Hoshigaki persimmons, this is really a manual, meticulous, and caring process.
The first is to carefully select the persimmons on the tree. Normally, only ripe, large, yellow-orange persimmons that are firm, not bruised, and have no insect bites are eligible. When picking, people often keep a piece of the stalk on the fruit to easily hang it later.
After that, persimmons are washed several times, then disinfected by soaking in rice wine. Next, workers proceed to tie a string to the rose stalk and hang it in the wind for a period of 3-4 weeks. The place to dry persimmons requires ventilation, no direct light, and especially, no rain.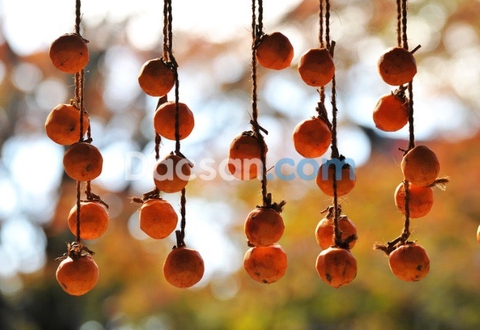 Workers will test for persimmon softness and color after 7-10 days. If the color changes to a deep orange with a brownish tint (due to the resin of the persimmon), the workers wearing gloves will slowly and gently massage each persimmon. Massage the persimmon while gently squeezing it so that the persimmon's intestine becomes softer.
Every other day, the persimmon maker hangs up to "massage" the persimmons in the early morning. Regularly, by the third week, the persimmons will be much softer; their outer skin will also be drier… In the fourth week, they become more and more delicious and fragrant. Combined with the natural drying process, after about 4 weeks, the persimmons can be matched with cups of hot tea.
Finally comes the stage of lowering the rig, sorting, and packing. Everything is done meticulously. On average, 1 kg of the best quality Hoshigaki wind-dried persimmon products requires 5-7 kg of fresh persimmons.
Making Hoshigaki Da Lat, or wind-hung persimmons, takes a long time and is completely handmade. It is a good condition to create a finished product with a natural flavor that is different from electrically dried persimmons. Hoshigaki Da Lat has a sweet taste and an attractive aroma that make everyone want to taste it. But many people wonder where to buy wind-hung persimmons in Vietnam to have great-quality products.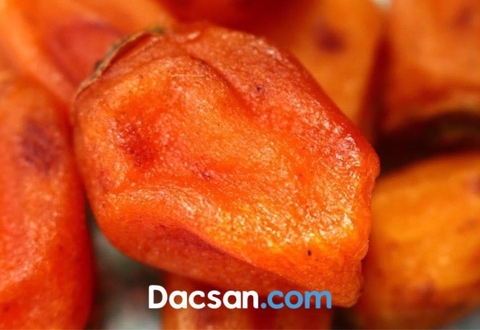 Where can I buy Hoshigaki Da Lat persimmons in Vietnam?
About the brand Dacsan.com
Dacsan.com is a website providing famous Vietnamese specialties. Dacsan.com has been on the market for 10 years and is loved and trusted by customers thanks to its high quality and carefully selected products for delicious taste and safety. Like many other products, Dacsan.com's product meets strict standards in terms of raw materials and processing for the best quality.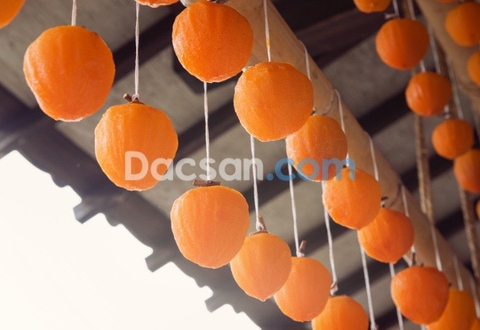 Why should you choose Dacsan.com's Hong Hanging Wind?
Carefully selected ingredients and Japanese technology produce excellent quality
The ingredients for processing Hoshigaki persimmons at Dacsan.com are carefully selected Da Lat persimmons. In Vietnam, Da Lat has a refreshing, cool climate with fog all year. Only fruits grown in organic, cleanest, and freshest conditions, as well as those that have reached a certain level of ripeness, are eligible for Dacsan.com's Hoshigaki persimmon.
Next is the application of Japanese technology to make finished products.
In an average of 30 days, Japanese technology will produce Hoshigaki persimmons, retaining all nutrients and an excellent taste. From the juicy orange persimmons and the acrid taste, they turn into thin, dry persimmons with sweet, thick bile, and the acrid taste is replaced by a deep but not harsh sweetness with a slight aroma of ripe persimmons.
Da Lat wind-hung persimmon is naturally sweet. In addition, it has a shiny color with honey inside. This is a specialty of Da Lat that tourists love to buy as high-class gifts for friends, partners, relatives, etc.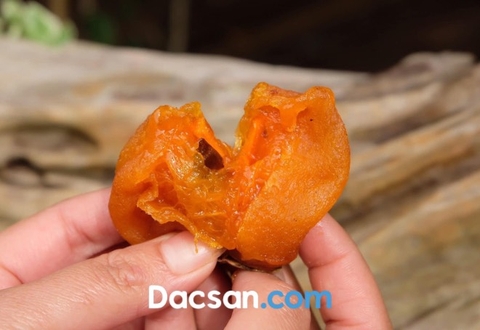 Frequently asked questions about Dacsan.com's Hoshigaki persimmons
How much is 1kg of Hoshigaki wind, hanging persimmon?
Many customers wonder how much money they should pay per kilogram of wind-hung persimmon. To make 1kg of dried persimmons naturally, it takes 5-7kg of fresh persimmons. Therefore, the reasonable price for a quality Hoshigaki wind-hung persimmon product according to Japanese technology is about 600,000 VND (equivalent to 24 USD). Only at this price can you get a good-quality product.
Is the white powdery layer outside the wind-hung persimmon a sign of moldy persimmons?
After a period of natural fermentation, the outer surface of the wind-hung persimmon will appear with a white, chalk-like glaze. But this is not mold; it's a type of probiotic, which will automatically reproduce after a while. Because the outer surface of the persimmon contains glucose and fructose, these enzymes develop rapidly to coat the persimmon. It not only helps protect persimmons from mold but also helps to make the persimmon more sweet because it decomposes residual tannins to make the persimmons no longer acrid.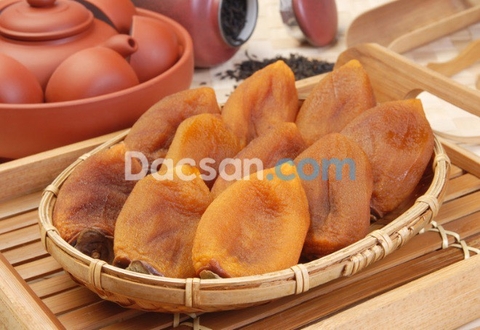 The use of Hoshigaki Da Lat wind-hung persimmon
Hanging persimmon not only tastes delicious but also has many health benefits:
1. Rich in fiber and good for digestion, Dacsan.com's persimmons contain high levels of fiber. Fiber is a substance that promotes good digestion and enhances nutrient absorption. Besides, it prevents digestive disorders, diarrhea, etc.
2.Good for people with anemia: Nutrients in dried persimmons help increase iron absorption to create blood. Therefore, eating wind-hung persimmon regularly will help prevent and treat anemia.
3. Improve eyesight: The composition of persimmons contains a lot of vitamin A, a vitamin good for the eyes that helps enhance vision.
4. Preventing cardiovascular diseases: Research has shown that persimmons exposed to the wind help with good blood circulation, which contributes to reducing the risk of atherosclerosis leading to a heart attack.
5. Blood pressure regulation, liver tonic: Eating wind-hung persimmons every day is the ideal method to stabilize blood pressure. High or unstable blood pressure sufferers should eat persimmons to improve this condition. Furthermore, it helps it detoxify alcohol quickly.
6. Reduce inflammation: Persimmons that have been naturally exposed to the wind have strong antioxidants that help reduce inflammation, fight infections, and help wounds heal quickly.
7. Anti-aging and keeping young beauty longer: The hanging persimmon has a very high amount of antioxidants, which help keep young beauty and protect cells from free radicals.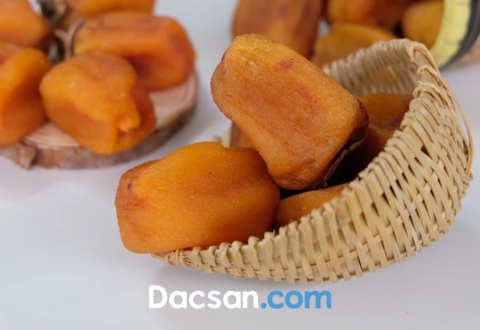 Can pregnant women eat dried persimmons hanging in the wind?
This is a very delicious snack, and many pregnant women want to enjoy it too. However, can pregnant women eat Da Lat wind-hung persimmons? Yes, pregnant women should consume hanging persimmons to reap their many benefits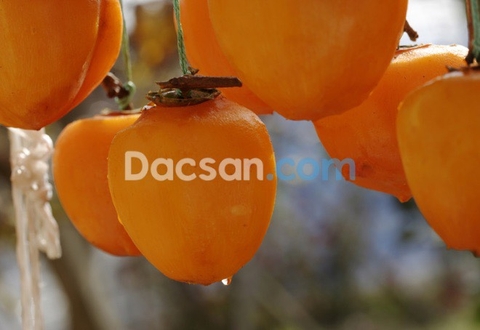 To buy Da Lat wind-hanging persimmons in Ho Chi Minh City, Vietnam, please place an order on the Dacsan.com.