Pork in the kitchen: a worthwhile method of preserving and preparing pork dishes. This is a dish with a processing and preserving recipe from the Thai people of Vietnam. Kitchen pork is an excellent choice for meals when the stages of pre-processing, marinating, and cooking are carefully followed.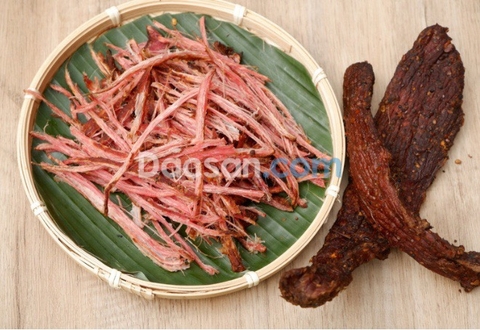 How to make kitchen pork
People get meat from pigs that are released in the forest. The meat is fragrant and tender; mainly take the meat from the butt, loin, and thighs, wash, and drain. Then, cut the pork into squares about 20-25 cm long, 9–10 cm wide, and 4–5 cm thick, and marinate with Northwest spices.
Spices for marinating pork in a stove kitchen include salt, chili, ginger, garlic, and a few types of forest leaves, depending on the maker's choice. All these spices are pounded together to make a marinade for pork. Mix the sliced pork with the seasoning so that the spice mixture covers the whole pork. Marinate for 2 hours.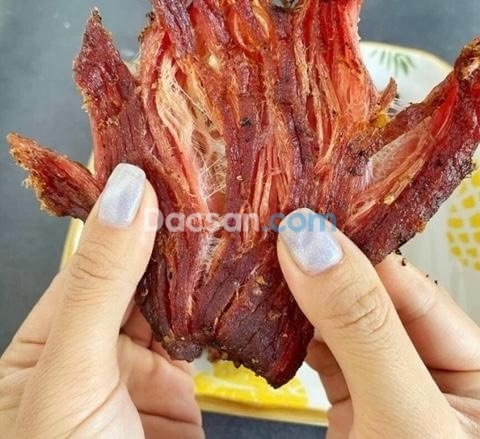 After that, the pork is skewered onto each ready-made bamboo stick and then hung up in the kitchen attic. People use firewood to burn continuously below the meat when it is hung on the kitchen floor to dry for about 5-7 hours. The meat is naturally dried with stove smoke, and then dried with firewood every day to reach a safe ripeness while keeping the full flavor.
Dacsan.com's kitchen pork product, which comes from the Thai ethnic group in the Northwest, is a delicious whole piece of dried pork preserved in vacuum bags and delivered nationwide.