Da Nang is a must-visit tourist destination once in a lifetime. Every year, this city attracts millions of tourists who visit and experience various types of tourism. And you, are you ready for a series of experiences at Da Nang's attractions?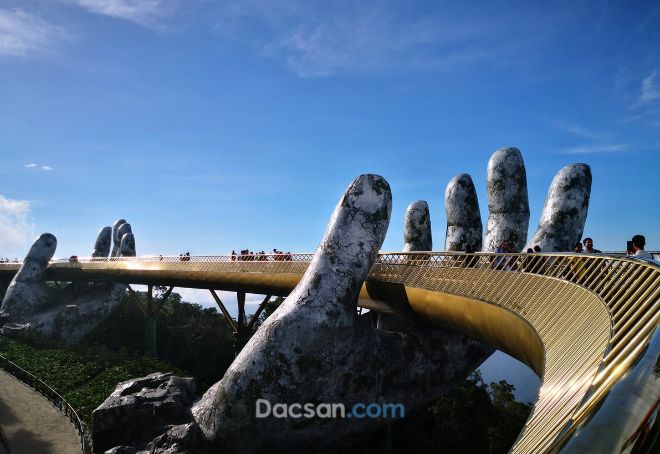 Introduction to Danang tourism
Da Nang is known as the most livable city in Vietnam. It is characterized by rich natural scenery, a modern lifestyle, a diverse culinary culture, and new entertainment experiences.
In this article, Dacsan.com will share useful information about Da Nang tourism, including the following: The most beautiful time to visit Da Nang, popular ways to move in Da Nang, and places to visit Explore and discover food.
The most beautiful time to visit Da Nang of the year
From April to August is the most beautiful time to travel to Da Nang. Because at this time the weather is dry, it is sunny, and there are few storms, it is suitable for swimming, trekking in the mountains, and participating in outdoor activities. However, this is also the peak tourist season with a large number of tourists, so the price of air tickets to Da Nang and hotels will also increase. Therefore, a Da Nang travel experience means that you need to plan to buy tickets and book early.
The rest of the year, Da Nang city is still beautiful in its own way for you to explore. Remember to monitor the weather before planning your trip to this city.
Transport
To come to Da Nang, you can take a plane. When traveling to attractions in the city, you can rent a motorcycle, rent a car, or take a bus.
Staying in Da Nang
Da Nang's tourism industry is very developed, so visitors can easily choose for themselves a suitable place to stay.
4-5-star hotel with good service quality and rooms with a sea view or beautiful view. For example: Pullman Danang Beach Resort; Fusion Maia Danang…
A system of 2-3-star hotel located in the city center, convenient for travel, with clean and comfortable rooms, will cost from 400,000 to 800,000 VND per night. The names that will make you satisfied include: Sea Garden Hotel, Princess Hotel Da Nang, Bamboo Green Hotel,…
In Da Nang, there are motels and homestays with a lower price range that will be a suitable choice for students, those who travel to Da Nang alone, or simply those who like to experience the life of the locals. Some beautiful and cheap homestays in Da Nang are Moc House, Rose Homestay Da Nang, D-Green Hostel, Like Backpacker Hostel,…
Places to visit
My Khe Beach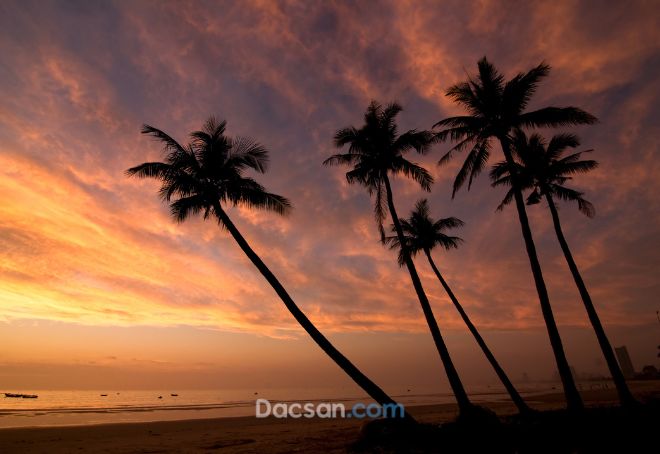 My Khe is one of the most beautiful beaches on the planet. Clear blue sea water, a clean beach, and fine white sand are the attractions of this beach. Coming to My Khe Beach, you can not only swim but also have the opportunity to participate in interesting activities such as windsurfing, canoeing, water motorbike riding,… Especially, do not miss the opportunity to watch the sunrise and beautiful sunset in this coastal city.
My Khe Beach is located right in the center of Da Nang city.
Dragon Bridge, Da Nang
Referring to the symbol of Da Nang, the name Dragon Bridge will be mentioned first. As the 7th bridge across the famous Han River, Dragon Bridge is designed as a majestic dragon winding across the Han River to connect the two banks, implying that it is reaching out to the great sea. Dragon Bridge is most beautiful in the evening when 1,500 LED lights are lit in combination with extremely shimmering color effects. Every Saturday and Sunday, at Dragon Bridge, there is a very special fire and water spray show.
Ngu Hanh Son
Ngu Hanh Son is a complex of five limestone mountains, impressed not only by the majestic landscape but also by the moss and cultural and historical imprints. You can choose one of two ways: take the elevator or climb the stairs to the top of the mountain and enjoy the panoramic view of the city.
Ba Na Hills
Located 35km from Da Nang city, Ba Na Hills is mentioned as a fairyland with many diverse attractions, from Western architecture to religious destinations to amusement parks. In particular, you can't miss the Golden Bridge with its striking hand-crafted architecture among the mountains and forests—the "virtual living" spot that has not stopped being hot on social networking sites. If you want to fully explore this place, try to consider a 1-day Ba Na Hills tour with a dedicated guide and a hotel shuttle.
Local people's markets
Da Nang is famous for local markets: Con Market, Han Market, Helio Market, etc.These are extremely attractive shopping attractions and culinary paradises.