Da Lat is a famous tourist destination in Vietnam. This city has beautiful natural landscapes, impressive architectural works, fresh air, year-round flowers, and delicious specialties.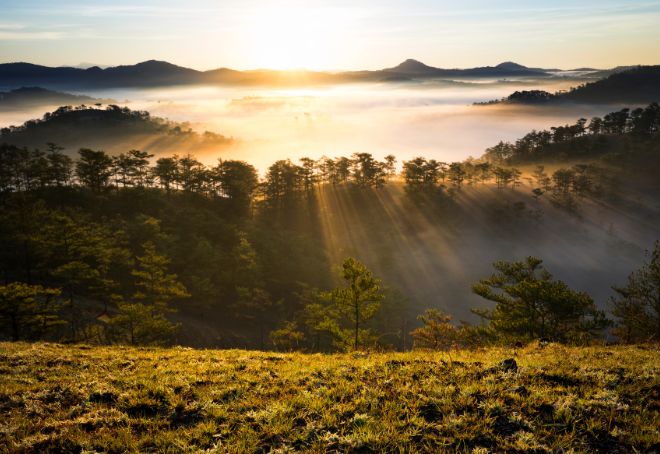 Discover Da Lat
The topography of Da Lat includes plain terrain and high mountain terrain. The surrounding mountains form a giant wall to block the wind. The center of Da Lat is located under a basin that is 1,700m wide; this is the most crowded and developed place. Thanks to such terrain, Da Lat's climate is cool and pleasant all year round, making it an ideal resort.
History of Da Lat city
Dortor Alexandre Yersin discovered Da Lat at the end of the 19th century. This area is located on the Lam Vien plateau.
On June 21, 1893, Doctor Yersin saw the richness of Da Lat and the favor of nature for this land, so he began to build the city. Da Lat is famous not only domestically but also internationally when it becomes an inspiration for musical and poetic works and is listed in the encyclopedias of many countries around the world.
Da Lat climate
Due to its plateau location, mountains, and extensive pine forests, Dalat has a very favorable temperature background.
The average temperature here does not exceed 20–21 degrees Celsius and does not drop below 10 degrees Celsius on cold days. Dalat has two seasons: the dry season and the rainy season.
Da Lat people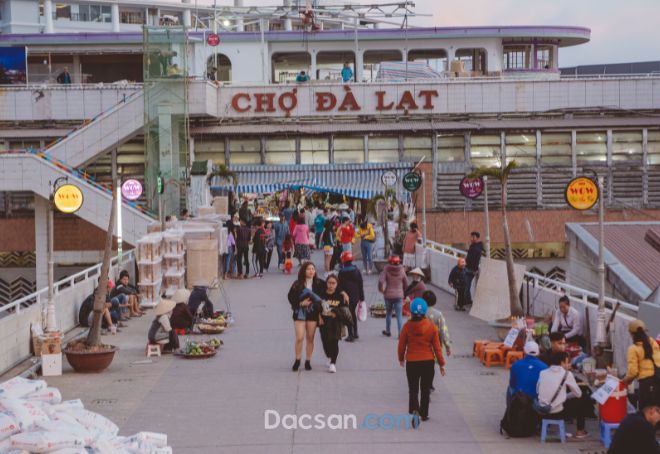 Characteristics of the Da Lat people are kindness and hospitality. They live very comfortably and liberally, like Westerners. In particular, their voices are very charismatic, clear, and warm. It is a distinctive feature that is difficult to mix with other provinces of Vietnam.
Culture
Talking about the culture of Da Lat, it is like a paradise with diverse national cultural identities of many ethnic groups. That is shown through art shows, unique musical instruments, and colorful costumes. In particular, once every 2 years, a flower festival in Da Lat is held to attract many tourists to participate. In Da Lat, there are many villas built and designed during the French period, as well as a book library with more than 200,000 books.
The way to Da Lat city
Nowadays, it is not too difficult to get to Da Lat if tourists travel from big cities in Vietnam such as Hanoi, Ho Chi Minh City, or Da Nang. You should choose a means of transportation that is a plane for safety and speed. Just land at Lien Khuong airport, then take a technology car or a taxi to go to the city center, which is about 30 km away. In addition, you can also travel by motorcycle, car, passenger car, etc.
Beautiful attractions in Da Lat
Datanla Waterfall
Datanla Waterfall is also known as Fairy Waterfall or the Abyss of Death. Although the call is somewhat contradictory, this is one of the interesting places to visit when traveling to Dalat.
Datanla waterfall is 20 meters high, and the water flows down like silk, perfectly blending with the surrounding natural trees. There are also many entertainment services, such as tram slides and adventure swings, for you to experience.
Truc Lam Zen Monastery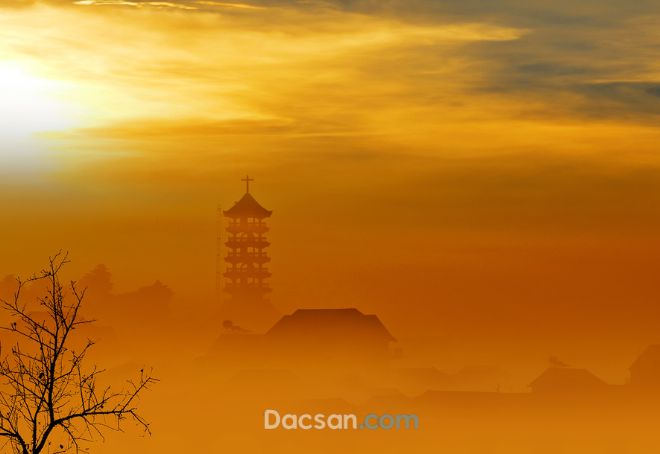 It is one of the three largest monasteries in Vietnam. 5 km from the city center, the monastery is a place for you to stay away from the hustle and bustle of the city and retreat to a peaceful space.
Truc Lam Zen Monastery has a unique and sophisticated architecture, blending into the vast pine forest. Many statues are carefully made to be majestic and delicate. Coming here, you will be comfortable with your soul and can pray for peace and luck for your loved ones.
Lam Vien Square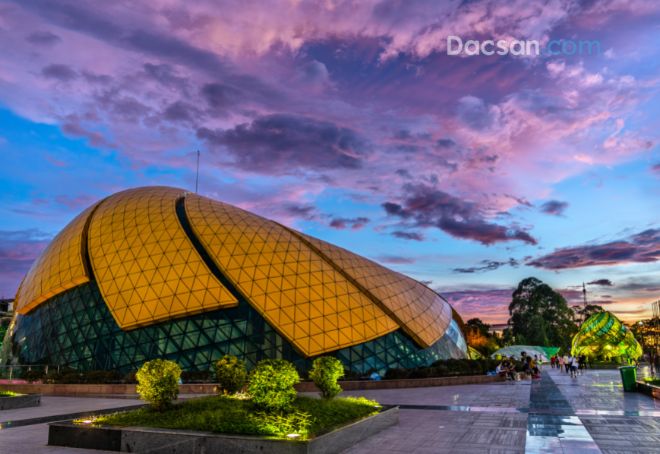 Dubbed the "giant wild sunflower of Da Lat", Lam Vien Square is a place not to be missed when coming to Da Lat. With an area of about 72,000 m2, the total investment cost is 681 billion VND, so that this place is majestic and spacious and often takes place many art shows as well as an entertainment place every night.
Infinity Lake
Going into the Clay Tunnel tourist area, visitors will admire the famous Infinity Lake with two large statues of K'Lang and H'Biang, symbolizing eternal love. Visitors can come to take great photos of the water surface as if they can see the horizon.
Mountain Langbiang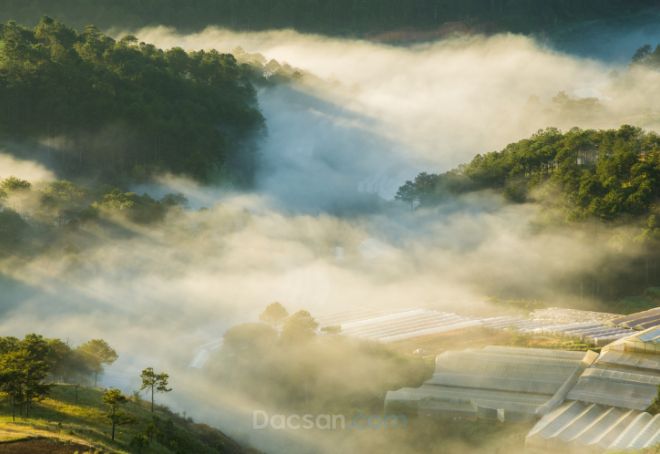 Langbiang is almost the pinnacle of Da Lat city. When you reach the top of Langbiang, you will see the panorama of this beautiful city, and many love stories take place here. On the top of the mountain, there is also a resting place with many restaurants, cafes, flower gardens, souvenir shops, etc. It will definitely give your trip more experiences than ever.
Xuan Huong Lake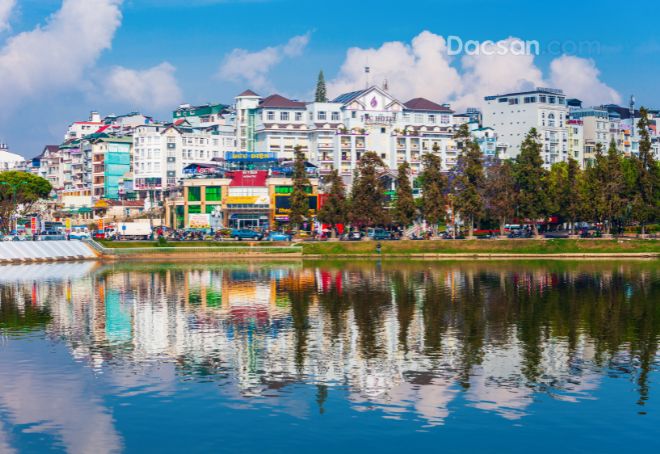 Xuan Huong Lake is the inspiration of many poets and is also the center of many major roads in Da Lat. Walking around the lake, there are many beautiful and poetic scenes, and visitors can rent a duck riding service in the lake to explore the lake surface very interestingly.
Dacsan.com is an address providing Vietnamese specialties, including Dalat specialties. Famous Dalat specialty products are persimmons hanging from the wind and Da Lat coffee.