Tiny shrimp paste with meat is a specialty in Vietnamese cuisine. This dish is attractive because of the harmonious combination of flavors: the sweetness of tiny shrimp, the fatty taste of minced bacon, and the salty taste of tiny shrimp sauce. It can be eaten at any meal, giving an interesting feeling to young people and being suitable for "sensitive" diners such as children and pregnant women.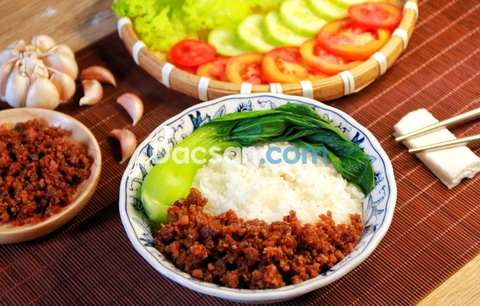 A box of fried shrimp paste with minced meat can be used to feed the family very conveniently. Ingredients for making tiny shrimp paste with meat include minced meat (from lean shoulder meat and bacon), copper shrimp paste, and spices such as onions, lemongrass,… These are all nutritious and healthy foods. In addition, if you choose the type that is processed by reputable and hygienic food establishments, this dish is absolutely safe.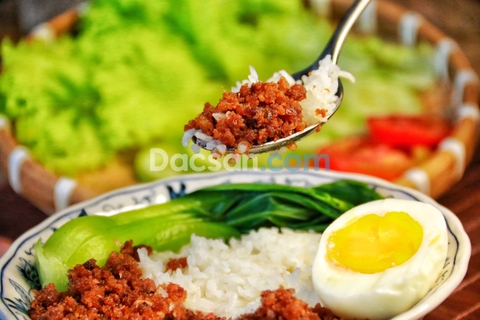 Tiny Shrimp Sauce with Meat is enjoyed with many other dishes, each of which is excellent. You can eat it with white rice, white porridge, bread, sticky rice,… Anyone who has enjoyed this dish will surely crush it right away.
On busy days, just a cup of white rice with a jar of shrimp paste with meat and a few slices of cucumber and tomato is enough to have a delicious and nutritious meal.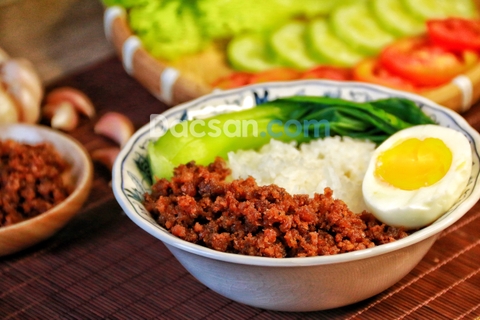 The Tiny Shrimp Sauce with Meat should be covered and refrigerated. With this method, the dish can be eaten for a few weeks while still ensuring a delicious taste.
Dacsan.com is the website where you can buy The Tiny Shrimp Sauce in Ho Chi Minh City. With a reputation for many years as a supplier and distributor of specialty products in Saigon, Dacsan.com is the place where customers can buy delicious, standard, and safe shrimp paste jars.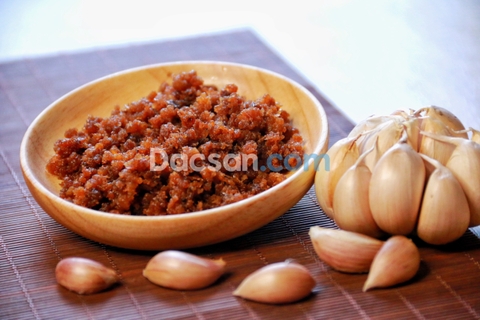 A 500-gram jar of shrimp paste with minced meat costs 300,000 VND. It can be used immediately or prepared in a variety of ways.