Mu Cang Chai is a colorful upland painting. The four seasons of the year are all charming in a different way.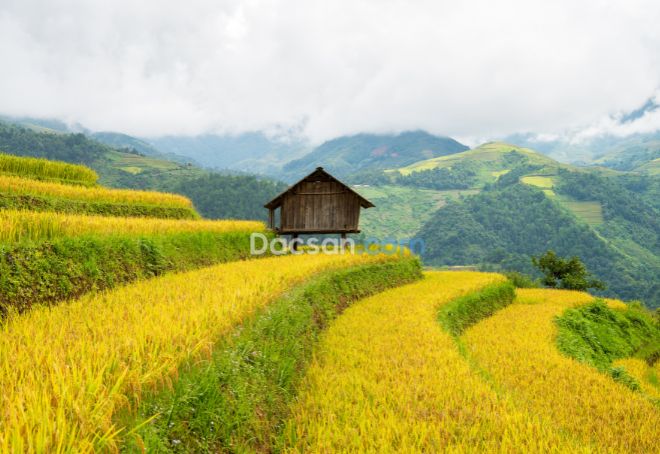 Usually, tourists make an appointment to go to Mu Cang Chai in September or October to see the ripe rice season and take beautiful photos. Outside of that time, however, you are welcome to visit at any time of year because this land is stunning all year.
Where is Mu Cang Chai?
Mu Cang Chai district is a district of Yen Bai province in the northwest region of Vietnam. It is 300 km from Hanoi, the capital of Vietnam. It has majestic mountains, impressive terraced fields, festivals, markets, hot mineral springs, and many attractive specialties.
Four-season beauty
Spring is the season for planting and sowing. At this time, the fields in Mu Cang Chai are bright and young. In summer, the terraced fields turn peacefully green beside the mountains. Autumn is the season of ripe rice, and all over Mu Cang Chai it's like wearing a brilliant yellow shirt.
In winter, Mu Cang Chai is so beautiful with the pink color of wild peach blossom trees. Wild peach flowers bloom only in harsh weather, so they are a symbol of winter in Mu Cang Chai. Usually, flowers will bloom at the end of December. However, there are also years when the flowers bloom later. In 2023, after the Lunar New Year, forest peach blossoms will bloom. Therefore, at this time, many tourists invite each other to Mu Cang Chai to check in with forest peaches.
Mu Cang Chai travel adventure
The road to Mu Cang Chai is quite difficult. Therefore, you need to be mentally prepared for the passes and steep slopes from one road to another. If you are traveling from Hanoi, you can pick up the bus at the My Dinh bus station.
Dacsan.com is a website providing famous specialties of Mu Cang Chai tourist destinations such as apple cider, kitchen buffalo meat, kitchen pork,… Local ingredients, traditional recipes, delicious flavors.