Tra Kho river goby with pepper is a well-known Quang Ngai specialty.
Tra river goby is one of the 50 specialties of Vietnam. It is no coincidence that the goby fish on the Tra Khuc River makes diners miss it so much. Each goby braised with pepper is delicious, chewy, and fragrant. They are only the size of a human finger, imbued with a spicy pepper flavor and delicious fish sauce seasoning, making everyone nostalgic every time they enjoy Tra river goby with pepper.
If you love fish dishes, don't miss this famous Tra River goby!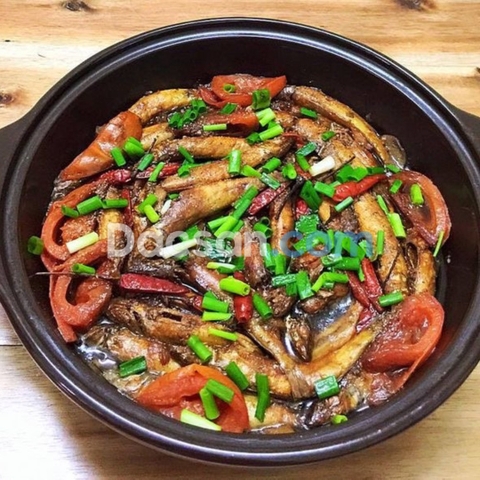 For a long time, Tra river goby has been an important part of the cuisine of the Quang people. Every Quang Ngai child remembers a goby and the cool, green Tra River. And not only that, Tra river goby has become a specialty that captivates diners from all over the world. Just hearing "Tra river goby," people immediately think of delicious and irresistible braised goby.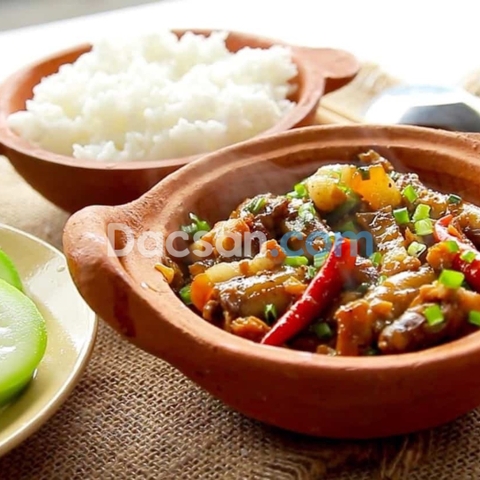 How is the Tra River Goby Dish made?
Goby is caught in the Tra River in Quang Ngai Province as raw material. After washing 7-8 times with water and draining, marinate with spices like pepper, chili, monosodium glutamate, sugar, and delicious fish sauce. Then cook over low heat for many hours.
The finished dish has a mildly spicy, fatty, fleshy, salty, sweet taste with an especially attractive aroma.
Tra river goby with pepper is usually eaten with hot rice, white porridge, or as a snack. This is not only the essence of Vietnamese cuisine but also a precious gift to give to friends and relatives. The dish is made from river goby raised by the clean Tra River, and the recipe is rich and fresh, keeping all the nutrients of the fish.
Where can I find real Tra River Goby with Pepper Stock?
Dacsan.com is a supplier of famous Tra River Goby products from Quang Ngai Province in Ho Chi Minh City. Fish is always fresh, delicious, and of high quality. It is used for personal enjoyment or as a meaningful gift.
Products are packed in boxes for easy transportation to many places, including abroad. In fact, this product is also available in the US, Europe, Korea, etc.