Pho is an iconic dish of the country of Vietnam, constantly selected by famous culinary websites as one of the top delicacies in the world. Let's quickly discover the taste of "Pho Vietnam" in this article.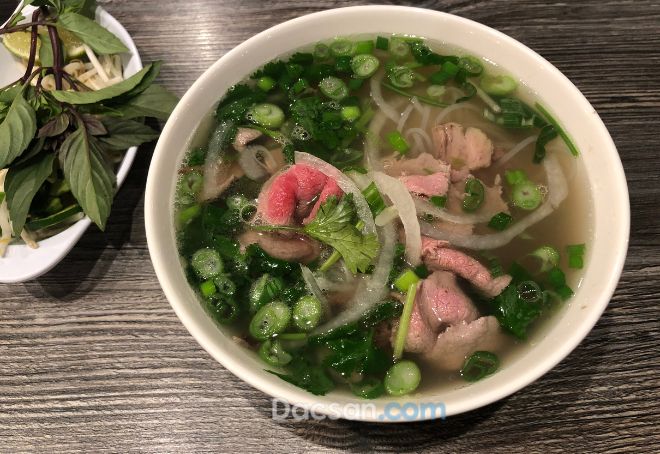 For foreign tourists, Vietnamese pho is a soup, but in reality, for Vietnamese, it is a main dish. Vietnamese people especially love pho because the dish is elaborately made and has a unique flavor. They can have breakfast, lunch, or dinner.
How is "Pho Vietnam" cooked?
"Pho Vietnam" has different flavors in each region. Pho in the South is sweeter than in the North. However, basically, these are the ingredients that make pho, which is loved by Vietnamese people and surprising to world foodies.
A bowl of pho usually has rice noodles, beef or chicken that has been boiled, and a hot broth.
To achieve the perfect sweet flavor, the broth of Pho is traditionally simmered for many hours from pork bones, oxtails, or chicken bones. Some herbs, such as anise, cardamom, dried onions, cinnamon, and spices, will be added to the broth to awaken the aroma and stimulate the taste buds.
Rice noodles are made from rice flour, then thinly coated and cut into fibers.
The type of meat used in Pho is thinly sliced beef or boiled chicken. This dish should be served hot with spices like chili sauce, pepper, lemon… Some places display raw vegetables with a bowl of pho for users to add.
Famous Pho restaurants in Vietnam
Pho is a familiar dish in Vietnam. It is easy to find a pho shop on the streets of this country. However, some pho brands are the most popular among locals and foreign tourists. It is well-known in Hanoi, Vietnam's capital, for Pho Thin, Pho Vuong, Pho Bat Dan, Pho Nho, and Pho 24. Famous pho restaurants in Ho Chi Minh City include Pho Hoa, Pho Phu Vuong, and Pho Le…
How to enjoy "Pho Vietnam"
The bowl of pho brought to the diners must be a hot, smoky bowl of pho. The bowl is full of rice noodles, meat, and broth. Add scallions and a few slices of onion. The eater will add chili sauce and squeeze more lemon juice as you like.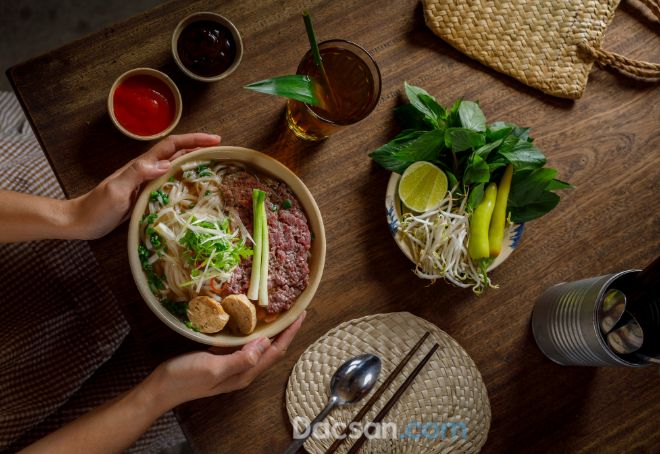 Currently, in addition to the traditional way of presenting pho, at large restaurants or restaurants specializing in pho in Vietnam, in order to bring a new feeling to diners, the broth is stored separately in an ice bowl. Rice noodles, meat, and vegetables are nearby. Wherever diners eat, they put ingredients there to create a feeling of freshness and excitement when experiencing Vietnamese pho.
Dacsan.com provides information on tourism, Vietnamese cuisine, and Vietnamese specialties as premium gifts. View products on the Dacsan.com website or call 0901 486 486 for advice.