Nha Trang tourism is a popular destination for international visitors to Vietnam. The highlights of this land are its many clear blue beaches, beautiful bays with large and small islands, golf facilities, scenic spots, and delicious cuisine.
Let's explore Nha Trang in detail in this article.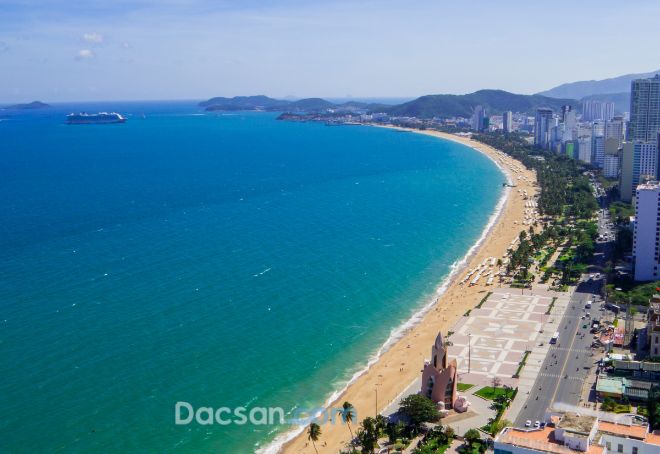 Bays and islands in Nha Trang
Hon Mun island
This is one of the four most beautiful islands in Nha Trang. The panorama of Hon Mun island, Nha Trang, includes blue sea, white sand, sunshine, and a rich marine ecosystem. In addition, the island has the appearance of high cliffs and steep cliffs. Some numbers speak for themselves on this island: Hon Mun Nha Trang has up to 2000 species of coral and 1500 species of marine life. This is the only marine conservation area in Vietnam. The World Wildlife Fund (WWF) has ranked Hon Mun Island (Nha Trang) as the most biodiverse area in Vietnam.
Hon Mieu Island
This is an island near the shore, only 1 km from the mainland, with an area of 13 km. The island is crowded with fishermen. The highlight is the wild, rustic look. On the island, there is a unique beach called Bai Tranh. The two banks are distinctly divided, with the left side being gravel and the right side being a strip of white sand. Around Bai Tranh Nha Trang are casuarina ridges and many successive mountain ranges reaching out to the great sea. At Bai Tranh, there are many interesting and entertaining activities such as jet skiing, scuba diving, parachuting,…
On Hon Mieu Island, Nha Trang, there is the Tri Nguyen Aquarium, built in the 1970s of the last century. This is an address for visitors to learn about the lives and development of thousands of rare sea creatures. In the west of the island, there is the Hon Mieu fishing village, which has fresh seafood.
Monkey Island
With an area of nearly 25 hectares, Monkey Island is blessed with beautiful scenery by nature. Monkey Island owns many beaches, islands, natural ecosystems, and extremely diverse terrain such as mountains, streams, islands, lakes, and seas.
Monkey Island in Nha Trang is home to more than 1500 friendly, adorable monkeys. When coming to Monkey Island Nha Trang, visitors will be able to explore the wild natural life, participate in monkey feeding activities, and have fun with them. After that, visitors will see monkeys performing motorcycle racing, racing with dogs, etc.
Besides the unique monkey circus, there are also impressive seal circus shows on Monkey Island. If you love exercise, don't miss the floating park here. In this park, there are 48 sports games, including: climbing cliffs, swinging beams, balancing bridges, etc.
Monkey Island in Nha Trang is truly an attractive entertainment place when there are more activities for visitors to experience. It is F1 racing, paintball shooting, ostrich riding, and scuba diving.
Binh Ba Island
This is an offshore island with an area of about 3 square kilometers. Binh Ba Island has a pristine beach and clear water. The locals are hospitable and friendly; they offer affordable accommodation and convenient transportation.
Binh Ba Island is not too big. Therefore, visitors can walk or rent a motorbike to explore the island without fear of getting lost.
To see the island from above, you need to follow the path to the top of the island, which is quite steep. After exploring the nooks and crannies of the main island, you can go to the pier to explore the remote islands, swim, or snorkel to see the coral. In the afternoon, visitors can stroll around the local market to enjoy the food. In the evening, you can follow the fishermen to the sea to fish for shrimp and squid.
On Binh Ba island, there is Nom Beach. This beach is formed by two mountain ranges hugging the two sides to form an arc. All year round, this area has smooth waves and fine sand.
Scenic spots in Nha Trang
Thap Ba Ponagar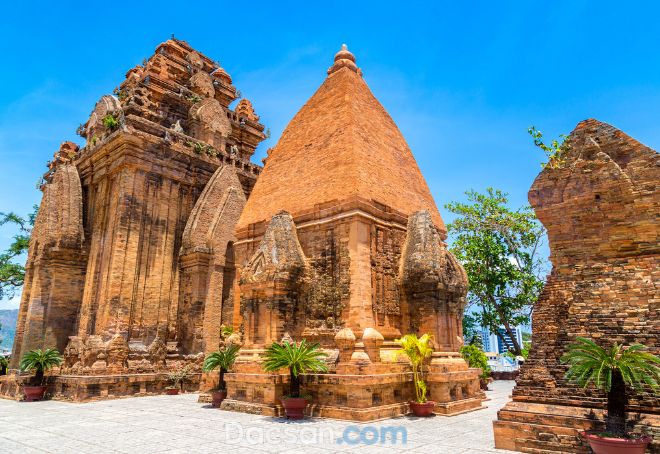 This work is a temple dedicated to the goddess Thien Y Ana that was constructed between the eighth and thirteenth centuries. According to the locals, this goddess was the one who taught them how to plow and sew. Therefore, this work is very important for the religious activities of the Nha Trang people.
The architecture of Thap Ba Ponagar Tower bears the typical imprint of the ancient Cham kingdom, consisting of 3 floors and 4 large towers, as well as the presence of ancient terracotta bricks. Inside, every detail of the sculpture is unique and nostalgic.
VinWonders Nha Trang Park
Located on Bamboo Island, this is an entertainment and resort area with an area of 200.000 m2, connected to the mainland by a modern cable car system. The amusement park is divided into indoor, outdoor, and water parks, an aquarium, a performing arts area, an ocean movie castle, and a food court.
Here, visitors have many options for having fun at the water park or experiencing thrills.