Vietnam's beautiful scenery, with its majestic and enchanting nature, unique architectural works, and cultural and historical sites rich in identity, has attracted a large number of tourists to explore. Together with Dacsan.com, we summarize the famously beautiful scenes of Vietnam that we should visit once in a lifetime.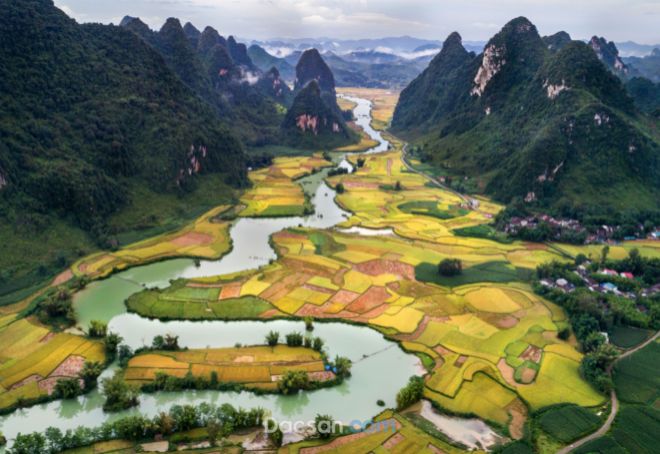 Beautiful scenery in the North of Vietnam
The north of Vietnam is one of the ideal tourist destinations, with charming landscapes. It is a place where visitors can feel the colors of the four seasons – spring, summer, autumn, winter and take pictures in picturesque places.
Ha Long Bay: The Top 7 Wonders of the World
Ha Long Bay is one of the natural wonders of the world and a beautiful and unique tourist destination in Vietnam. In Ha Long Bay, there are mountains, sea, and thousands of large and small islands with diverse shapes. Blue, calm sea water creates beautiful natural landscapes, attracting visitors.
When traveling to Ha Long Bay, visitors have the opportunity to relax and try many interesting experiences such as climbing, kayaking, diving to see corals, etc.
Sapa
On the list of the most beautiful scenes in Vietnam, it is impossible not to mention Sapa. Sapa impresses with the green color of the forest, mountains, and mists, like a fairyland.
Coming to Sapa, tourists cannot ignore famous tourist attractions: the stone church, the Fansipan Legend, Ham Rong, Ta Phin village,…
Ninh Binh
Ninh Binh's landscape is composed of limestone mountains and poetic rivers. Traveling to Ninh Binh, you will sit on boats and move gently on the river to see the beautiful natural scenery.
Besides, you will explore the tropical forest with millions of butterflies blooming in April.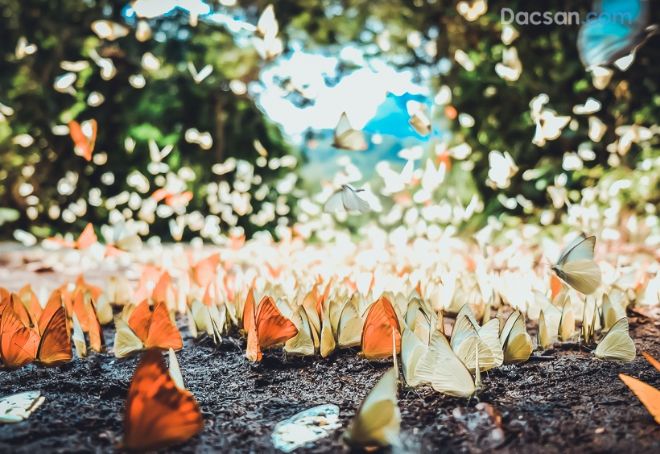 Hanoi
Hanoi, the capital, is a place where many beautiful scenes of Vietnam are gathered. Ancient relics, the Ho Chi Minh Mausoleum, Sword Lake, West Lake, or 36 Old Streets… are all attractive attractions. Each season in Hanoi has its own beauty. Along with that, Hanoi cuisine is very special, with many famous delicacies. No matter how many times you travel to Hanoi, this city always brings you new things.
The beautiful scenery of Vietnam in the Central region
Central Vietnam tourism creates memories with the blue sea, the majestic, unspoiled landscapes, and also the heroic historical relics.
Quang Binh
The most famous tourist destination in Quang Binh is the Son Doong cave. The process of weathering to form a beautiful and interesting cave system in Phong Nha is a natural process that took place 250 million years ago.
Son Doong Cave is the first name on the list of votes. It is "the cave with the longest water cave; it has the highest and widest cave entrance today; it contains the widest and most beautiful sandy beach and reef; inside there is a deep blue underground lake; the system of stalactites in the cave is beautiful and majestic with the most shapes; it has the longest underground river in Vietnam; and it has the widest and most beautiful dry cave.
Nha Trang, a beautiful seascape in Vietnam
The natural beauty of Nha Trang and the variety of things to do there, like swimming, riding a cable car, playing adventure games, etc., are what bring people there. The famous islands in Nha Trang are Hon Tre and Hung Binh Island, Diep Son Island…
Hoi An: beautiful, nostalgic scenery in Vietnam
Every street corner in Hoi An has a unique, nostalgic look. Traveling to Hoi An, you will be impressed with the beautiful and delicate ancient architecture, craft villages, and pristine seas. Hoi An's diverse cuisine is also something that surprises visitors.
Danang
Da Nang is known as the most livable city in Vietnam. Da Nang has a lot of scenic spots for you to explore. Popular tourist attractions in Da Nang are the Dragon Bridge, Marble Mountains, Hai Van Pass, My Khe Beach, Linh Ung Pagoda, etc.
Hue
Hue's picture-perfect natural beauty is typical of Hue tourism. Hue has an ethereal, poetic beauty that draws inspiration from antiquity and contemplative features. Famous destinations in Hue are the Huong River, Thien Mu Pagoda, Trang Tien Bridge, Khai Dinh Tomb, Hue Citadel,… 
Mui Ne Beach
The famous beauty of Vietnam cannot help but mention Mui Ne. This is a place with a clear blue sea and stretching sand dunes, as well as peaceful and unspoiled nature suitable for relaxation. In the city center, there are also tourist attractions for you to freely explore and learn about, such as the Ho Chi Minh Museum, Poshanu Cham Tower, Duc Thanh School,…
Beautiful scenery in South Vietnam
Southern Vietnam stands out with its natural beauty and friendly, hospitable locals that attract tourists to explore. On the map of beautiful landscapes in Vietnam, the southern region is a highlight not to be missed. Here are the names you should go to.
Tay Ninh, the land of unique monuments and landscapes
Tay Ninh has the Ba Den and Ma Thien Lanh mountains. Traveling to Tay Ninh, visitors can camp to enjoy the fresh air and hunt clouds on the top of Ba Den mountain in Tay Ninh. Or explore the place where Ma Thien Lanh has hundreds of hectares of primeval forest and murmuring streams to relax and recharge.
Can Tho, a rich river region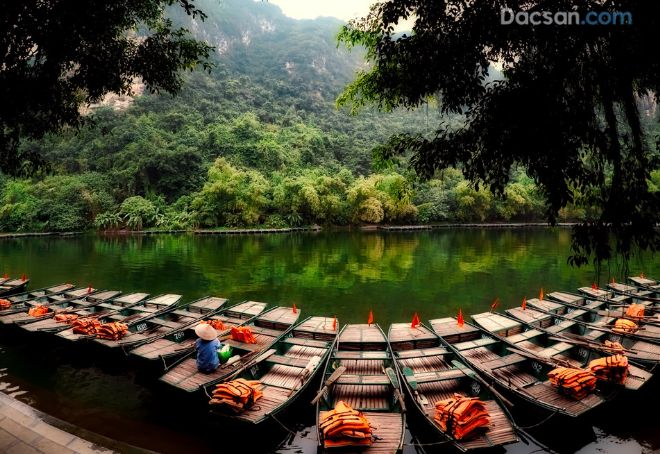 Can Tho tourism has the Cai Rang floating market, Ninh Kieu wharf, Truc Lam Phuong Nam Zen Monastery, gardens, and historical sites. The beauty of Can Tho contributes to perfecting the unique and rich beauty of Vietnam that no other country has.
Phu Quoc Island: The Top 10 Most Beautiful Scenes in Vietnam
Prominent in the southern region is Phu Quoc Island. The island is called Pearl Island or Paradise. In addition to the beauty of the blue sea, white sand, and sunshine, Phu Quoc tourism also has a variety of modern experiences.
Da Lat: beautiful and dreamy scenery
On the list of beautiful scenes in Vietnam, Da Lat is definitely indispensable. The city of thousands of flowers, charming nature, and pleasant weather are the plus points that make Da Lat tourism always the top destination in Vietnam. Famous sights in Da Lat can be mentioned as Datanla Waterfall, Langbiang Mountain, Tuyen Lam Lake, Robin Hill, etc., along with countless unique products.
Ho Chi Minh City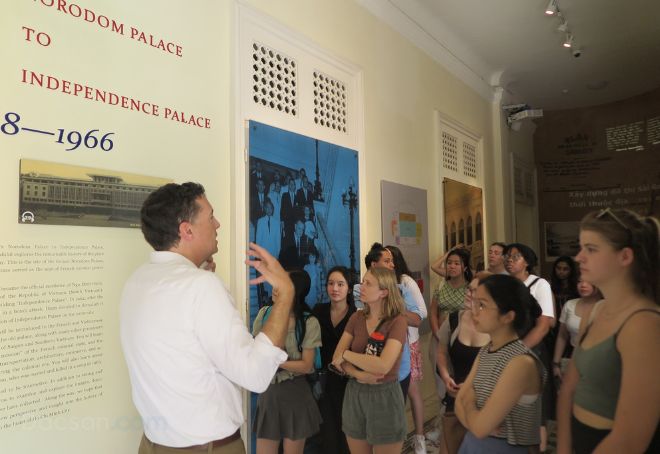 Saigon – Ho Chi Minh City is the most dynamic and developing city in Vietnam. This place is favored by nature for river or island tourism. Along with that is the attraction of artistic architectural works, historical sites, museums, and attractive entertainment spots. The famous attractions of Saigon tourism are Notre Dame Cathedral, Ben Thanh Market, Independence Palace, Ho Chi Minh Museum, et cetera.
Saigon is also "a city that doesn't sleep", so spending the night in Saigon is very interesting with Nguyen Hue pedestrian street, Bui Vien West street,…
Vietnam's beautiful scenery is unique, diverse, and rich, which is something no one can deny. Besides its natural resources, Vietnam also makes tourists remember it with its unique and attractive cuisine.
If you want to enjoy the elite specialties of three regions of Vietnam, visit the Dacsan.com website to place your order now.
Hotline: 0901 486 486.